Ubisoft announces the Season 2 Pass for Anno 1800
Anno 1800 Celebrates More Than 1 Million Players with a Free Ornament and a Free Weekend from March 12 to March 15 
GERMANY — March 9, 2020 — Today, Ubisoft announced that Anno 1800™, the latest installment in the successful city-building and strategic franchise, will get a Season 2 Pass including three new major DLCs to be released in 2020. The first one, Seat of Power, will launch on March 24. In addition, Ubisoft announced the game has reached more than 1 million players* around the world. Released on April 16, 2019 for Windows PC, Anno 1800 was already the fastest selling Anno game at launch and was able to consistently expand to new players throughout 2019 and will continue to do so in 2020. To celebrate this milestone, all Anno 1800 players will receive a unique free ornament** today and everyone will be able to discover Anno 1800 for free from March 12 to March 15.
"Our team at Ubisoft Mainz is extremely happy about the results of Anno 1800 so far and thanks to the constant feedback by the community, we are highly motivated to bring new content to the Anno brand in 2020", says David Wightman, Studio Manager at Ubisoft Mainz.
With the Season 2 Pass, players will have access to new adventures, challenges, and tools as they shape their very own Industrial Revolution. The Season 2 Pass includes the three following DLCs to be released throughout 2020:
Seat of Power: Players will be able to show off their city's power with a prestigious palace and government departments that can boost their economy with a variety of policies. Seat of Power will be available on March 24.
Bright Harvest: In this DLC, players will have the opportunity to bring the wonders of mechanized farming to the countryside as they boost the efficiency of their farms with tractors and more.
Land of Lions: Players will travel to the Southern continent and join forces with an embattled emperor to bring life to the desert using the new irrigation system.
Three Exclusive Themed Ornaments: Finally, Season 2 Pass owners will get access to exclusive ornaments available alongside the first DLC Seat of Power.
To celebrate the 1 million players milestone achieved within the first 9 months of lifetime back in December 2019, players will receive a unique ornament directly in Anno 1800.
In addition, beginning Thursday March 12 until Sunday March 15***, players will be able to discover Anno 1800 (including Tiers 1 to Tiers 3 and co-op mode) for free on Uplay and the Epic Games Store.
Developed by Ubisoft Mainz, Anno 1800 provides players with countless opportunities to prove their skills as a ruler. Players can create huge metropolises, plan efficient logistics networks, settle an exotic new continent, send out global expeditions, and dominate their opponents by diplomacy, trade or warfare.
For more than two years, Anno 1800 has invited players to take part in the creation and the development of the game by giving feedback through the Anno Union. So far, more than 200 blogs have been published, 18,000 comments posted and 5 community contests organized. This collaboration between players and the studio enables the development team to shape the game and add requested community features.
Anno 1800, the Season 2 Pass and Anno 1800: the Complete Edition are available digitally on the Epic Games store and the Ubisoft Store for Windows PC. The Season 2 Pass can be purchased at the price of 25 euros. The Complete Edition of Anno 1800 includes the main game, the Season 1 & 2 Passes and the Digital Deluxe Content****, it can be purchased at the price of 100 euros.
For more information about Anno, please visit: https://annogame.com/
To join Anno Union, please visit: https://www.anno-union.com/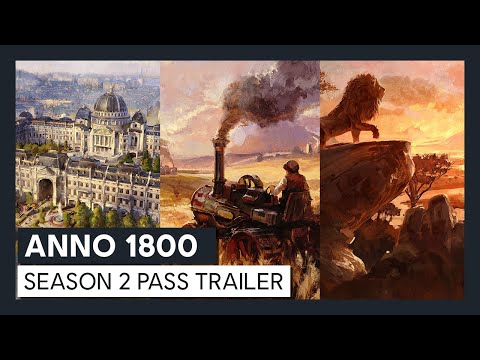 About Ubisoft Mainz:
The teams at Ubisoft Mainz are engineering Ubisoft's biggest blockbusters. Operating from a historic city in the heartland of Germany, the studio develops genre pushing games like the acclaimed Anno 1800 and lends decades of expertise to AAA co-development projects like Tom Clancy's Rainbow Six Siege and the upcoming Beyond Good And Evil 2. More information at mainz.ubisoft.com.
About Ubisoft:
Ubisoft is a leading creator, publisher and distributor of interactive entertainment and services, with a rich portfolio of world-renowned brands, including Assassin's Creed, Just Dance, Tom Clancy's video game series, Rayman, Far Cry and Watch Dogs. The teams throughout Ubisoft's worldwide network of studios and business offices are committed to delivering original and memorable gaming experiences across all popular platforms, including consoles, mobile phones, tablets and PCs. For the 2018–19 fiscal year Ubisoft generated Net Bookings of €2,029 million. To learn more, please visit ubisoft.com.
© 2019–2020 Ubisoft Entertainment. All Rights Reserved. Anno, Ubisoft, and the Ubisoft logo are registered or unregistered trademarks of Ubisoft Entertainment in the US and/or other countries.
*Including all distribution platforms and Uplay+. Not including pre-launch beta tests and trial versions. Anno 1800 has reached 1M players within the first 9 months of launch in December 2019.
**All Anno 1800 players will receive an exclusive free ornament with the next update today directly in Anno 1800.
***This software is a free demo of Anno 1800 from 12th March, 2020 3pm UTC to 16th March, 2020 2pm UTC on EPIC PC and from 12th March, 2020 11am UTC to 16th March, 2020 2pm UTC on Uplay. The game is provided AS-IS, may not function as expected, and may crash. Please note that maintenance may also occur at any time during this period, rendering you unable to access parts or all of the game. Internet access and Ubisoft Account registration required.
****Including the additional content The Anarchist, the game soundtrack, an artbook and exclusive company logos.