The Settlers Releases New "Meet The Team" Video Series
Düsseldorf, 30. January 2020 – Ubisoft releases today the first video of its new "Meet the Team" series for The Settlers. With these videos, Ubisoft Duesseldorf grants a special insight behind the scenes: various members from the international team working on the game's realization right now, will be featured in each episode. Apart from the work in the studios, they present unique insights into the world of the developers that create the game.
The series kicks off with Edgar Bittencourt, Art Director at Ubisoft Düsseldorf. As a fan of the first settlers from start, Edgar introduces his role as Art Director in which he organizes a huge graphics team and provides the project its unique graphical identity, and let viewers participate in his own personal story.
The Settlers thrills players' hearts now over 25 years with its hard-working figures, creating detailed and flourishing settlements and economic cycles by only one mouse click. The new iteration releasing in 2020, brings back the best, modernized elements from previous The Settlers titles, combining them with brand new features and gameplay systems.
The Settlers is available for pre-order now on Uplay PC via Ubisoft Store and the Epic Games Store, and will be available on UPLAY+, Ubisoft's subscription service. More details on UPLAY+ can be found on uplayplus.com*.
For more information on The Settlers please visit www.thesettlers-alliance.com, Facebook and Twitter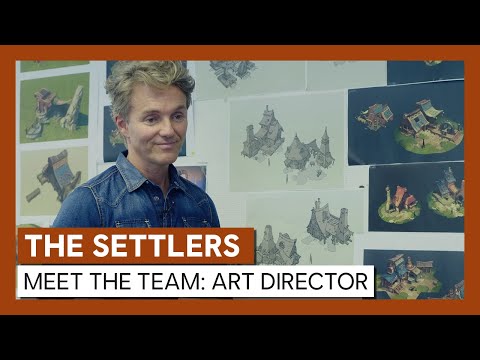 * Terms and conditions apply, including platform, age and territorial restrictions.
About Ubisoft Duesseldorf
Ubisoft Duesseldorf is the home of diverse teams that have dedicated themselves entirely to excellent and innovative AAA quality in the development of numerous games and technologies. The studio is the lead developer of popular games like The Settlers and the innovative VR Escape Room experience Beyond Medusa's Gate. As a renowned co-developer within the Ubisoft Group, Ubisoft Duesseldorf contrivutes significantly to well-known projects like Tom Clancy's Rainbow Six Siege and Uplay. Tp learn more, please visit www.duesseldorf.ubisoft.com.
About Ubisoft
Ubisoft is a leading creator, publisher and distributor of interactive entertainment and services, with a rich portfolio of world-renowned brands, including Assassin's Creed, Far Cry, For Honor, Just Dance, Watch Dogs, Tom Clancy's video game series including Ghost Recon, Rainbow Six and The Division. The teams throughout Ubisoft's worldwide network of studios and business offices are committed to delivering original and memorable gaming experiences across all popular platforms, including consoles, mobile phones, tablets and PCs. For the 2018–19 fiscal year, Ubisoft generated net bookings of €2,029 million. To learn more, please visit www.ubisoftgroup.com.