Relive the iconic Anno Games with the Anno History Collection, available now
DÜSSELDORF — June 25 — Today, Ubisoft announced that the Anno History Collection is available for players on Windows PC. Developed by Ubisoft Mainz, the collection includes four beloved city-building classics and their expansions: Anno 1602, Anno 1503, Anno 1701 and Anno 1404 fully updated and optimized to work smoothly on current computers.
With the Anno History Collection, players can relive the captivating city-building gameplay of four beloved Anno games andt their expansions:
Anno 1602 and its expansion New Islands, New Adventure,
Anno 1503 and its expansion Treasures, Monsters & Pirates,
Anno 1701 and its expansion The Sunken Dragon,
Anno 1404 and its expansion Venice.
The updated and optimized versions offer different improvements:
Graphics: Players' cities will look better than ever, thanks to resolutions all the way up to 4K.
Multiplayer features: Updated and expanded multiplayer functionality including matchmaking
Save Compatibility: Players will be able to enjoy all improvements while continuing their save games from the original game versions.
Other features: Borderless window mode, multi-screen support.
Bonus content: The Anno History Collection will also offer bonus content including soundtracks and wallpapers, as well as company logos and an ornament for Anno 1800.
Anno 1503 Multiplayer: 18 years after the release of the original game, Anno 1503 finally receives an official online-multiplayer mode.
The full Anno History Collection is available digitally on the Ubisoft Store for Windows PC for 39,99 euros. All games included in the History Collection are also available individually for purchase.
For more information about Anno, please visit: https://annogame.com/
To join Anno Union, please visit: https://www.anno-union.com/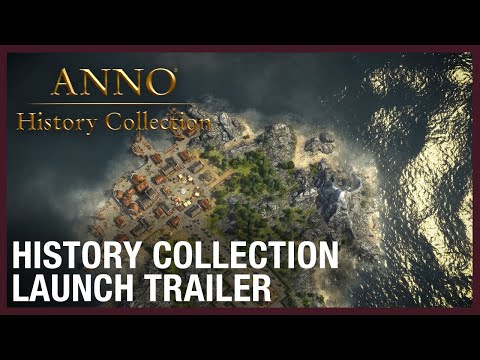 About Ubisoft Mainz:
The teams at Ubisoft Mainz are engineering Ubisoft's biggest blockbusters. Operating from a historic city in the heartland of Germany, the studio develops genre pushing games like the acclaimed Anno 1800 and lends decades of expertise to AAA co-development projects like Tom Clancy's Rainbow Six Siege and the upcoming Beyond Good And Evil 2. More information at mainz.ubisoft.com.
About Ubisoft:
Ubisoft is a leading creator, publisher and distributor of interactive entertainment and services, with a rich portfolio of world-renowned brands, including Assassin's Creed, Far Cry, For Honor, Just Dance, Watch_Dogs, Tom Clancy's video game series including Ghost Recon, Rainbow Six and The Division. The teams throughout Ubisoft's worldwide network of studios and business offices are committed to delivering original and memorable gaming experiences across all popular platforms, including consoles, mobile phones, tablets and PCs. For the 2019-20 fiscal year, Ubisoft generated net bookings of €1,534 million. To learn more, please visit: www.ubisoftgroup.com.