Prince of Persia: The Dagger of Time VR Escape Room now available
Co-Op Adventure Based on Beloved Franchise Available Now at VR Escape Rooms at Select Venues
PARIS, August 10, 2020 — Today, Ubisoft announced its third location-based virtual reality escape room, Prince of Persia®: The Dagger of Time, is available now at select venues. Prince of Persia: The Dagger of Time is a team-based adventure set in the world of Prince of Persia®: The Sands of Time. Building on the success of Ubisoft's VR escape rooms set in the world of Assassin's Creed® — Beyond Medusa's Gate and Escape the Lost Pyramid — Prince of Persia: The Dagger of Time continues to strengthen Ubisoft's position in the location-based VR market.
Developed by Ubisoft Düsseldorf, Prince of Persia: The Dagger of Time lets two, three or four players team up and work together to solve puzzles and find a way out of a reimagined Fortress of Time. In the story, players are summoned by Kaileena, the Empress of Time. They are asked to help her stop the evil plans of a Magi who is attempting to restore the sands to the Hourglass of Time and create an army of Sand Monsters. To successfully escape the fortress, players must use cooperative teamwork and problem-solving skills to complete objectives, utilizing powers such as time control from the dagger of time.
More information about Ubisoft's Escape Games including locations can be found at www.ubisoftescapegames.com/the-dagger-of-time/
For the latest news on all Ubisoft games, please visit news.ubisoft.com.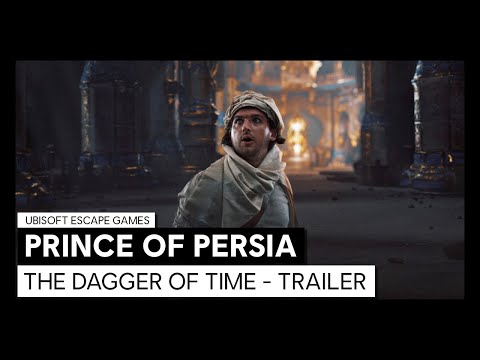 About Ubisoft
Ubisoft is a leading creator, publisher and distributor of interactive entertainment and services, with a rich portfolio of world-renowned brands, including Assassin's Creed, Far Cry, For Honor, Just Dance, Watch Dogs, Tom Clancy's video game series including Ghost Recon, Rainbow Six and The Division. The teams throughout Ubisoft's worldwide network of studios and business offices are committed to delivering original and memorable gaming experiences across all popular platforms, including consoles, mobile phones, tablets and PCs. For the 2019-20 fiscal year, Ubisoft generated net bookings of €1,534 million. To learn more, please visit: www.ubisoftgroup.com.
About Ubisoft Düsseldorf
Ubisoft Düsseldorf is home to several teams dedicated to deliver AAA excellence and innovation across a wide portfolio of games and technologies. The studio is leading the development of beloved Ubisoft games like The Settlers and the innovative VR escape room experience Prince of Persia: The Dagger of Time. As renowned co-developers within the Ubisoft group, Ubisoft Düsseldorf contributes to high profile projects such as Tom Clancy's Rainbow Six Siege and Uplay. Ubisoft Düsseldorf is part of the Ubisoft Blue Byte studio network.