Game Together
Attention Students!
As a new initiative of our Ubisoft Education track, we would like to introduce you to the Game Together. This competition is aimed at students in their final year of a Bachelor's, Master's or Ph.D. programme of a games faculty at a university in Germany, Austria or Switzerland (GSA). As with our other education initiatives, we want to support young talents at an early stage with the Game Together, accompany them on their way into the video game industry and expand our relationships with the universities that offer games studies in the GSA region for a fruitful and collaborative cooperation. For more information on how you can participate and what you can win, check out the trailer video below.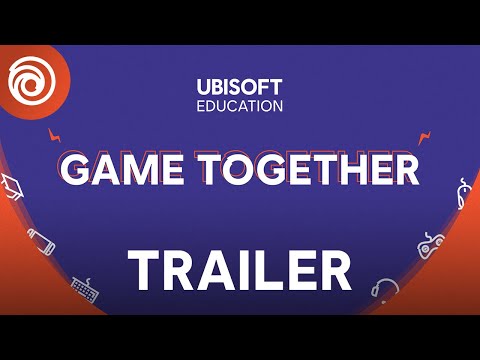 Frequently Asked Questions
What is the Game Together?
The Game Together is a competition for students in their final year of a video game degree program at a university in the GSA region (Germany, Austria, Switzerland).
Why does the Game Together exist?
It is part of our Ubisoft Education program and gives students the opportunity on their home stretch into the industry to show what they have learned during their studies, get in touch with our devs and learn a lot more on Mentoring Day.
Who is on the jury?
The jury consists of Ubisoft experts and possibly some external partners.
How can I participate?
Apply with your playable university project during our application period on the website. Times will be announced via our social media channels and website.
How will the winning team be determined?
Our panel of expert judges will play all submissions and score them according to a standard scoring system. This is how we determine the winning teams of places 1 to 3, which will first be invited to our studio as nominees. During the award show the announcement of the placements will take place.
How big can my team be?
There is no limit to the size of a team. However, we would like to know who did what in each project, so we ask you to be very specific.
Can my team consist of people from different semesters?
Basically yes, but each team member must be in the last year, i.e. the last two semesters of studies.
Which games are allowed?
Due to the current setup of our judging sessions during the pandemic situation, the following games are allowed: PC (Game Build Download), PC (Steam), Mobile (for Android in the Google Store). There are no restrictions on the genre, target audience and others.
How many teams can win the Game Together?
There are 3 nominee teams, which in the end will occupy the places 1 to 3.
What happens during the award show?
During the award show, the teams will present their games on stage. Then the award ceremony will take place. Afterwards, we invite our employees to a get-together, where the teams' games can also be exhibited and played.
What happens during the Mentoring Day?
Depending on the profession of each team member, different mentoring sessions, presentations and workshops are attended. There is also a studio tour and a joint lunch.