Game Together
Attention Students!
As a new initiative of our Ubisoft Education track, we would like to introduce you to the Game Together. This competition is aimed at students in their final year of a Bachelor's, Master's or Ph.D. programme of a games faculty at a university in Germany, Austria or Switzerland (GSA). As with our other education initiatives, we want to support young talents at an early stage with the Game Together, accompany them on their way into the video game industry and expand our relationships with the universities that offer games studies in the GSA region for a fruitful and collaborative cooperation. For more information on how you can participate and what you can win, check out the trailer video below.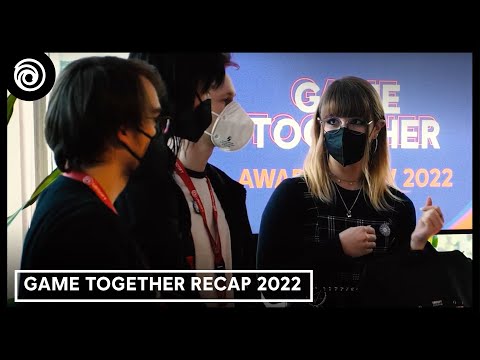 Frequently Asked Questions
What is the Game Together?
The Game Together is a competition for students in their final year of a video game degree program at a university in the GSA region (Germany, Austria, Switzerland).
Why does the Game Together exist?
It is part of our Ubisoft Education program and gives students the opportunity on their home stretch into the industry to show what they have learned during their studies, get in touch with our devs and learn a lot more on Mentoring Day.
Who is on the jury?
The jury consists of Ubisoft experts and possibly some external partners.
How can I participate?
Apply with your playable university project during our application period on the website. Times will be announced via our social media channels and website.
How will the winning team be determined?
Our panel of expert judges will play all submissions and score them according to a standard scoring system. This is how we determine the winning teams of places 1 to 3, which will first be invited to our studio as nominees. During the award show the announcement of the placements will take place.
How big can my team be?
There is no limit to the size of a team. However, we would like to know who did what in each project, so we ask you to be very specific.
Can my team consist of people from different semesters?
Basically yes, but each team member must be in the last year, i.e. the last two semesters of studies.
Which games are allowed?
Due to the current setup of our judging sessions during the pandemic situation, the following games are allowed: PC (Game Build Download), PC (Steam), Mobile (for Android in the Google Store). There are no restrictions on the genre, target audience and others.
How many teams can win the Game Together?
There are 3 nominee teams, which in the end will occupy the places 1 to 3.
What happens during the award show?
During the award show, the teams will present their games on stage. Then the award ceremony will take place. Afterwards, we invite our employees to a get-together, where the teams' games can also be exhibited and played.
What happens during the Mentoring Day?
Depending on the profession of each team member, different mentoring sessions, presentations and workshops are attended. There is also a studio tour and a joint lunch.
Winners of Game Together 2022
1st Place
Bloom Studios with Ominous Stew
In Ominous Stew, players prepare dishes based on their customers' nutrition needs, while gaining reputation and rivaling against other restaurants. Ominous Stew is a funny game, designed with a lot of love and promises a great time in both single and multiplayer mode.
2nd Place
Hivemind Interactive with Hooked
Hooked is a game of skill taking place in an alien tech environment. It also tickles the brain with some puzzle elements. In this 3D first-person game, players find their way through levels by pulling objects (and themselves!) through the environment with use of their trusted grappling hook-bow.
3rd Place
Fish in a Pocket with Out of the Box
Out of the Box is a puzzle game, in which the player takes the role of Schrödinger's Cat solving puzzles to unveil the mystery of what happened in the laboratory they're stuck in. During their escape, they will get to know other experiments and navigate through the two dimensions in which the cat can move.
Special Mention
Minh Son X SolidARity with Solitude
While the very innovative and experimental Augmented Reality Mobile game Solitude did not quite crack the top three, we still wanted to honor it. In this calming puzzle game, players take control of a bird called Neki and lead her through a maze by exploring new ways of perspective thinking. Being an AR mobile game, players need to adjust the angle of their mobile phone to allow Neki to proceed on her way.