Ubisoft Education
Ubisoft Education represents our commitment to share knowledge with talents of today and tomorrow. Ubisoft Blue Byte wants to support young talents early on, guiding them while becoming professionals in the games industry.
Our Ubisoft Education initiative expertly blends theory and practice as we collaborate with teaching institutes from schools to universities. Together we offer many insightful and exciting opportunities tailored towards pupils, students, teachers and career starters.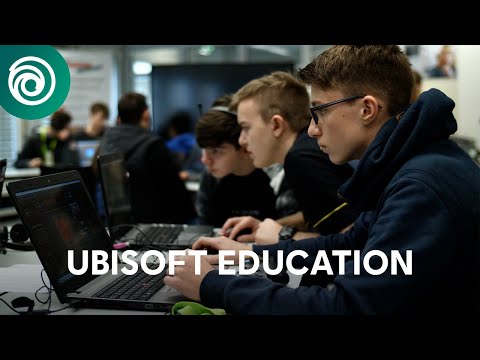 Frequently Asked Questions
What is the purpose of the Ubisoft Education Initiative?
We cooperate with academic institutes, universities, colleges and schools to have a lasting positive influence on the video game ecosystem in Germany. Because today's students and pupils are tomorrow's game creators. We are committed to preparing them well for their future in the industry.
What is the difference between Ubisoft Education and Ubisoft Entrepreneurs?
Ubisoft Education supports young talents by guiding them on their way to become professionals in the games industry and to offer many insightful and exciting opportunities tailored towards pupils, students, teachers and career starters. Ubisoft Entrepreneurs initiates and promotes the comprehensive acceleration of video game startups and indies in Germany, being the next step in the professional games environment.
Does Ubisoft offer internships? And how long does an internship last?
Yes, we offer internships for students, but not for pupils and kids. These paid full-time internships usually last six months and the students are included in our project teams while working with us.
How can you apply as a potential partner university?
What actions are offered as part of Ubisoft Education?
Among other things, we offer supervision for bachelor's or master's theses, expert interviews, guest lectures, CV advice, support for events and workshops, study plan advice and various other mentoring programs. We organize regular career orientation days and project weeks for pupils (e.g. Ubisoft Gaming School). We're also eager to invite external parties to give lectures, workshops or project presentations for our employees.
Are there any costs if you participate in Ubisoft Education?
No. All of our Ubisoft Education actions are free.
Our Partners
Stiftung Digitale Spielekultur
Stiftung Digitale Spielekultur is the foundation of the German games industry, an ambassador for games and therefore an important partner for us. Since they were founded in 2012, they forge links between digital games and the social and political institutions in Germany. The non-profit organization, which is working nation-wide, is based on an initiative of Deutscher Bundestag and the German games industry. Partners from the fields of education, social matters, youth protection, culture, media, politics, pedagogics, administration and science are cooperating with the foundation to realize projects, events and research studies. A diverse advisory board makes sure that all of the mentioned actions are purposeful, independent and transparent. The associate of Stiftung Digitale Spielekultur is game - the association of the German games industry.