Ubisoft Education
Ubisoft Education represents our commitment to share knowledge with talents of today and tomorrow. Ubisoft Blue Byte wants to support young talents early on, guiding them while becoming professionals in the games industry.
Our Ubisoft Education initiative expertly blends theory and practice as we collaborate with teaching institutes from schools to universities. Together we offer many insightful and exciting opportunities tailored towards pupils, students, teachers and career starters.
The Game Together is the latest addition to our Ubisoft Education initiatives and is a competition for students in their final year of a Bachelor's, Master's or Ph.D. programme in a games faculty at universities in Germany, Austria and Switzerland.
Ubisoft Gaming School
Many are dreaming of a career in video games yet are unsure how to find their way into our exciting industry. Ubisoft Blue Byte happily lends the game creators of tomorrow a helping hand! The Ubisoft Gaming School is a five-day event for young people aged 14 to 17. Our experts guide participants to understand key elements of games production during workshops. Our young developers then form teams and put their ideas into practice, creating their own games.
Whenever a Ubisoft Gaming School is scheduled, the date is announced on our website and Social Media channels.
Academy Collaborations
We are bringing our expertise directly to students and mentors, offering practical touchpoints and impulses to deepen their academic knowledge. This includes group projects like guest lectures, workshops or excursions as well as individual offerings like scholarships, internships, thesis advice and research support. Furthermore, we provide guidance to professors and faculties in planning and adapting their curricula to industry standards. Knowledge transfer goes both ways for us: To benefit the professional development of our teams, we are always interested in academic guest lectures in our studios.
Future Career Day
Every year, we are hosting The Future Career Day, a job orientation day for pupils. On this day, kids get the possibility to engage with our game development experts and gain insights into our studios and job opportunities within the video game industry. The Future Career Day takes place in Düsseldorf, Mainz and Berlin and shows young people that games are much more than just "child's play".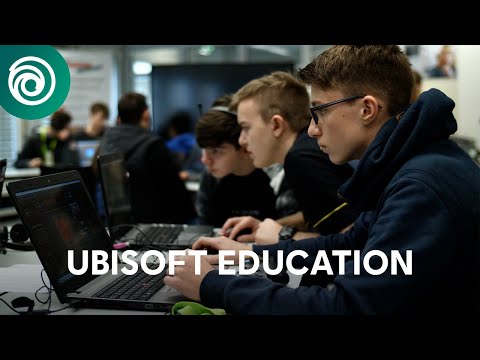 Our Partners
Stiftung Digitale Spielekultur
Stiftung Digitale Spielekultur is the foundation of the German games industry, an ambassador for games and therefore an important partner for us. Since they were founded in 2012, they forge links between digital games and the social and political institutions in Germany. The non-profit organization, which is working nation-wide, is based on an initiative of Deutscher Bundestag and the German games industry. Partners from the fields of education, social matters, youth protection, culture, media, politics, pedagogics, administration and science are cooperating with the foundation to realize projects, events and research studies. A diverse advisory board makes sure that all of the mentioned actions are purposeful, independent and transparent. The associate of Stiftung Digitale Spielekultur is game - the association of the German games industry.