Expand your empire to the Arctic in Anno 1800's third DLC "The Passage"
December 10, 2019 — Today, Ubisoft announced that Anno 1800™, the latest installment in the successful city-building and strategic franchise, is releasing its third DLC: The Passage, included in the Season Pass, on Windows PC. Inviting players to the frozen north, The Passage is Anno 1800s largest content release. In addition to The Passage, players can also experience the new the co-op mode and in-depth statistics system as acommpanying free updates. Finally, new players will be able to discover and play Anno 1800 for free on Uplay and the Epic Game Store for a week from December 11-18.
The Passage brings an all new dimension to the world of Anno 1800, inviting players to conquer the Arctic season. Harsh weather conditions brings an entirely new element to the gameplay, alongside the new heating mechanic that will encourage players to rethink their approach to creating layouts as they will have to now keep their residents warm and healthy. For the first time, players will be able to construct a fleet of airships that will speed up trade across their entire empire. The new region is an exciting adventure for everyone, but a true challenge for achievers who want to conquer the wasteland in order to reap significant rewards. The Passage brings new gameplay mechanics, such as conquering the sky with airships, 2 new citizen tiers, 7 new production chains, 32 new buildings, 60 new quests, 80 new items and much more.
Beginning tomorrow December 11 until December 18*, players will be able to discover Anno 1800 (including Tiers 1 to Tiers 3) for free on Uplay and the Epic Games Store. Players can also experience the base game along with two new features releasing today as free updates for all Anno 1800 players:
The Co-Op mode will allow players to share the responsibilities of raising and managing an industrial empire. Up to four factions will be able to compete in the same match involving until 16 players.
In-depth statistics system showing players detailed stats on production and consumption of all their goods across all islands.
With the holiday season approaching, Anno 1800 is bringing some cheerful spirit with the all new Holiday pack, which allows players to decorate their cities in a festive style. This DLC pack includes a wide range of cosmetics ornaments with 23 new items. In between the festive carousel, Christmas trees, snowman, lanterns, and much more, players will transform all industrial cities into a holiday wonderland.
Developed by Ubisoft Mainz, Anno 1800 provides players with countless opportunities to prove their skills as a ruler. Players can create huge metropolises, plan efficient logistics networks, settle an exotic new continent, send out global expeditions, and dominate their opponents by diplomacy, trade or warfare. The Anno 1800 post-launch plan offers new adventures, challenges and tools to the players. The Season Pass includes three DLCs : Sunken Treasures, Botanica and The Passage. In addition, regular updates are bringing new free content available for all players.
While the release of The Passage completes the Season Pass content, the Anno 1800 development team remains dedicated to supporting the game post-launch. The team is working on new content and features to expand the world of the industrial revolution for next year and will have more information to share at a later date.
For more than two years, Anno 1800 has invited players to take part in the creation and the development of the game by giving feedback through the Anno Union. So far, more than 200 blogs have been published, 18,000 comments posted and 5 community contests organized. This collaboration between players and the studio enables the development team to shape the game and add requested community features.
Anno 1800 is available digitally on the Ubisoft Store and the Epic Games store for Windows PC. The Passage can be purchased as part of the Anno 1800 Season Pass for 24,99 EUR or individually for 14,99 EUR and is downloadable for players who already own the Season Pass. In addition, players can purchase the Gold Edition of Anno 1800, including the Digital Deluxe Edition** of the game and the Season Pass.
For more information about Anno, please visit: https://annogame.com/
To join the Anno Union, please visit: https://www.anno-union.com/
To play Anno free this week, please visit: https://annogame.com/freeweek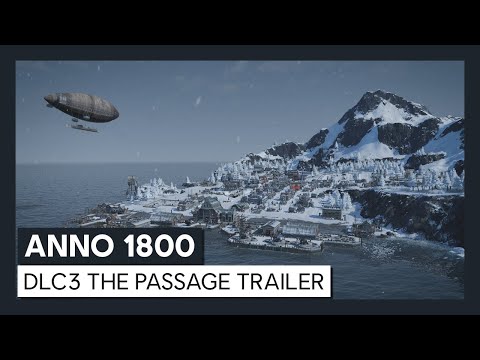 *This software is a free demo of Anno 1800, playable from 11th December, 2019 2pm CET to 18th December, 2019 6pm CET.  This demo is provided AS-IS, may not contain the same content as the full/final game, may not function as expected, and may crash.  Please note that maintenance may also occur at any time during this period, rendering you unable to access parts or all of the demo. Ubisoft does not commit to providing customer support for the demo.
**In the Digital Deluxe Edition, players will receive the base game and will get access to the Digital Deluxe Content, including the additional content "The Anarchist," the game soundtrack, an art book and exclusive company logos.
About Ubisoft Mainz:
The teams at Ubisoft Mainz are engineering Ubisoft's biggest blockbusters. Operating from a historic city in the heartland of Germany, the studio develops genre pushing games like the acclaimed Anno 1800 and lends decades of expertise to AAA co-development projects like Tom Clancy's Rainbow Six Siege and the upcoming Beyond Good And Evil 2. More information at mainz.ubisoft.com.
About Ubisoft:
Ubisoft is a leading creator, publisher and distributor of interactive entertainment and services, with a rich portfolio of world-renowned brands, including Assassin's Creed, Just Dance, Tom Clancy's video game series, Rayman, Far Cry and Watch Dogs. The teams throughout Ubisoft's worldwide network of studios and business offices are committed to delivering original and memorable gaming experiences across all popular platforms, including consoles, mobile phones, tablets and PCs. For the 2018–19 fiscal year Ubisoft generated Net Bookings of €2,029 million. To learn more, please visit ubisoft.com.