Anno 1800's first DLC of Season 3, Docklands, is available now
February 23, 2021 – Starting today, Anno 1800 players can build in Docklands, the first DLC of Anno 1800's third season. Players will be able to build a modular warehouse district starting with the main building inspired by the world-famous "Speicherstadt," the world's largest warehouse district and an UNESCO World Heritage site in Hamburg, Germany. Each added module comes with a different effect, including increased loading speed or faster repair times. Docklands can integrate naturally into every game session, giving players more options for individualization and ways to reach certain goals easier.
Alongside the first DLC of Season 3, Anno 1800 is releasing a free Game Update #10 for all players, containing:
Improvements to the trade route menu
Possibility to turn harbor quays into streets to connect buildings
Cosmetic DLC ornaments to improve a city's attractivity
The full list of changes can be found here: anno-union.com/game-update-10-release-notes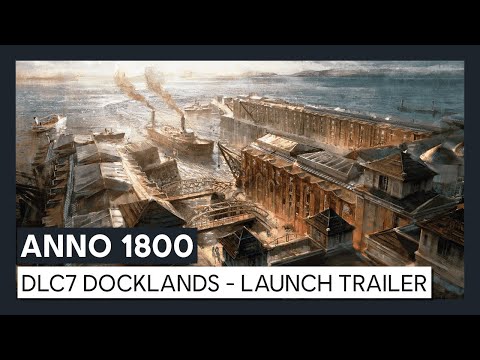 Docklands launches with a Free Weekend, allowing players to play Anno 1800 Base Game from February 25 and lasting till March 1.
Anno is available on Ubisoft Connect and the Epic Games store for Windows PC. Docklands can be purchased for €6.99 or as part of the Season 3 Pass for €19.99.
For more information about Anno, please visit: annogame.com
To join Anno Union, please visit: anno-union.com